Your Digital Identity
Solution for reliable verification of identity with user-friendly interface, which offers safe access to all applications whenever and wherever.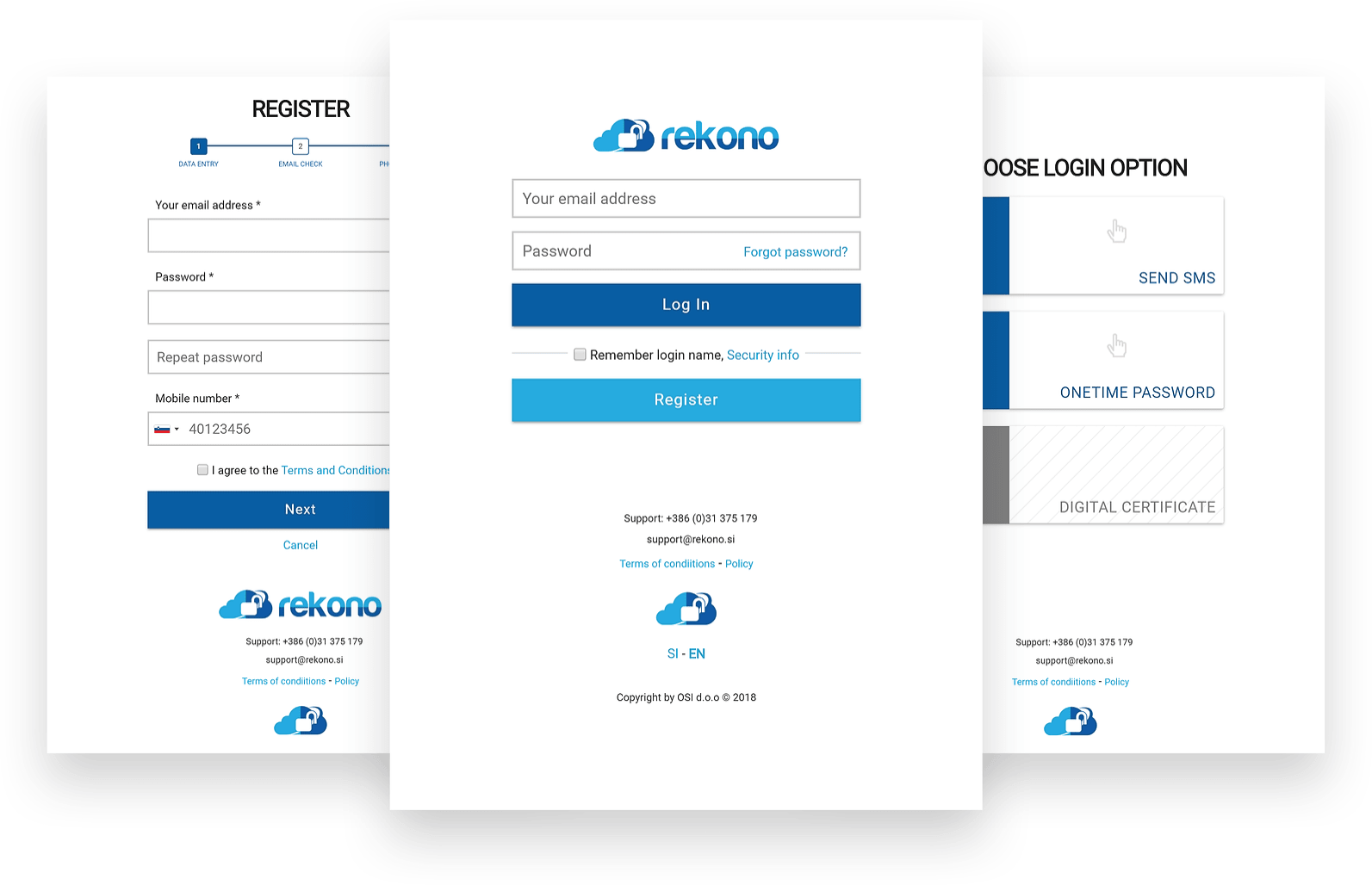 We are trusted by the largest Slovenian companies. With Rekono your identity is safe!



Simple
Simple and adaptable solution with two-factor login. Additional software installation is not needed.
Fast
Integration of the existing methods and introduction of more contemporary ways of authentication to the installed platform.
Secure
Provides strong cryptographic data protection and offers various ways of identity verification.
Authentication Possibilities
Integration with the safest digital certificates, SMS login, one-time password generator OSI OnePASS and other options.
Management and Control of e-Identity
Rekono enables the data owner to give authorization via website interface for accessing his or her data.
User can determine which data can be accessed by the authorized person and also for how long.
Simple Use on Smartphones
Rekono is adapted for simple use on smartphones and supports authentication for mobile applications. Safe access with high level of trust into individual's e-Identity has never been so simple.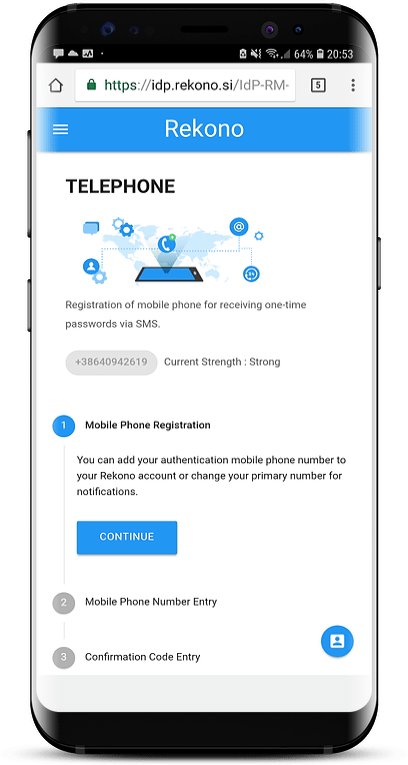 Don't worry about the GDPR.
Rekono takes into account all regulations.
Rekono has been developed in accordance with the guidelines of new European Regulation eIDAS and GDPR. OSI d.o.o. has established information security management system for its IT-services that meets the requirements of ISO 27001. At OSI d.o.o. we are fully aware of the importance of security.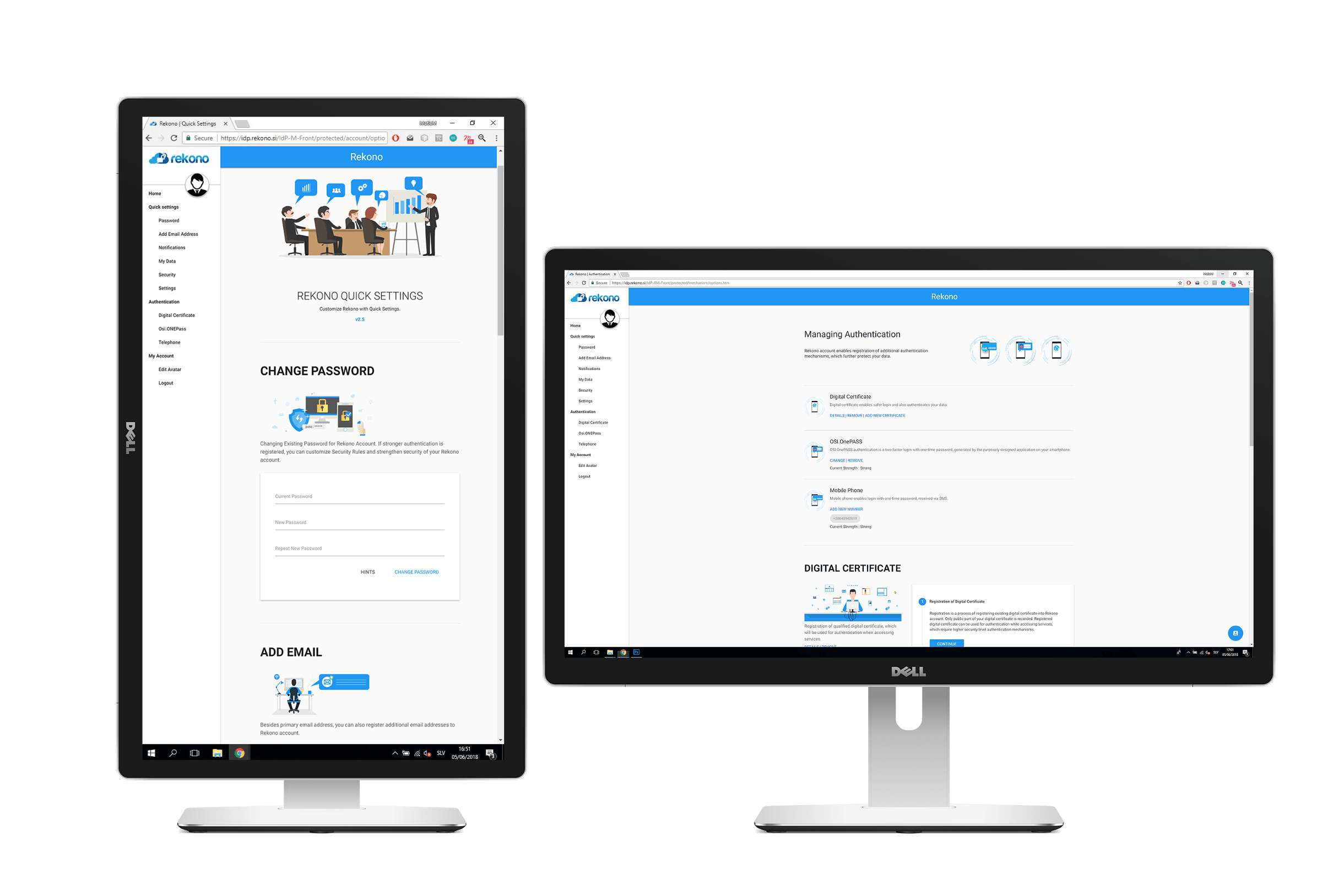 Rekono Account in two Minutes!
To register new Rekono account an email address and smart phone are needed. We recommend you to register your personal data and add a personal digital certificate for a totally carefree usage. By using the digital and smart card certificate you can access all supported applications.
Frequently Asked Questions
No worries! All frequently asked questions are gathered in a single place. 
Rekono enables advanced user authentication with mechanisms such as X509, PWD, SMS, TOTP, BIO, OpenID Connect, Kerberos and others. Various login mechanisms are centralized and available to the applications, to support one or more valid authentication mechanisms, whereas various login mechanisms can enable also higher level of data access rights. Rekono enables also the development of support for a customized login mechanism.
The purpose of Rekono is to achieve the highest security standards, thus enabling the clients to achieve compliance with the legal and sectoral regulations, such as eIDAS, Payment Services Directive (PSD2), Guidelines on the security of internet payments (issued by EBA), and similar.
Rekono is responsible for establishing identity of users, wishing to join the system, and transmitting their identity to the service providers. Besides basic user information it enables also transmission of other authentication data.

Rekono team has a longstanding experience in terms of information systems, systems of electronic identification and electronic signatures, systems of information security and system integration.
© 2019 Rekono d.o.o., All Rights Reserved